Today, animation and motion graphics can be seen in everything from apps to social media content, promotional videos, and explainer videos.

Heck, there's even an animation Oscar that's given out. How cool is that?
Well, animation services and motion graphics have directly impacted both advertising and marketing techniques or strategies.

In fact, animated videos continue to fuel various forms of corporate promotion and help to shape a whole new manner of presenting products and services in today's digital world.
Motion graphics pervades marketing across all industries and sorts of firms, from barely visible in-app animation to entire promotional videos.

Even businesses who were expected to have a more traditional appearance opt for a creative injection in the form of motivating animated videos and other types of entertaining motion graphics design.

The following animation services & motion graphics trends indicate that you have good taste when it comes to 'text and visuals that move'.

Or

You are a decision maker who wants to know more about what's trending in the animation world to either adapt it to your branding or service lines.

But you aren't alone. Numerous businesses participate in the new wave of marketing techniques, and come to us for media or animation solutions to garner value.

We at Kilowott specialize in 3 key services – 2D Animation, 3D Animation and AR/VR.

Let's get started on the most popular and widely adopted animation & graphics trends for the year. These trends also impact the services in animation that are in demand too.
Before we get to the most popular animations that are in high demand, let's look at why animation services are in vogue?
---
Why are animation services trending?
Digital marketing is becoming a more competitive field, and it's critical for your company to stand out.

Because it promotes you as a creative, original, and futuristic organization, an animated video may quickly set you apart from your competitors. This makes animation services a key offering for businesses looking for animated content.
According to Cisco, by 2022, the internet will have surpassed 1 million minutes of video every second. Another graph depicting the explosive expansion of the online video market is shown below.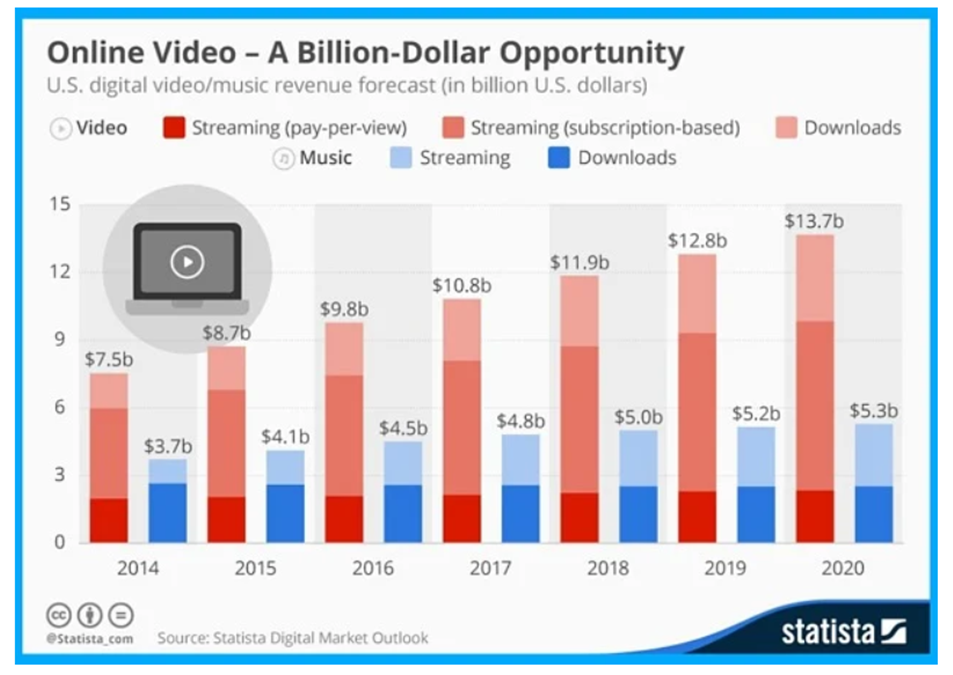 That's also why we see numerous producers and media professionals come to us through queries such as,
Which is the top animation video agency?
Who offers the best cartoon animation services?
Who does the best corporate films?
Is there a top animation video agency?
Are there any animation services near me?
How much does a 30 second animation cost?
How much does animation cost per hour?
How to outsource animation services?
Customers are not only engaged by animations; they are also inspired to make purchases, which helps your business maximize revenues.

According to statistics, having an animated movie on your landing page can boost your conversion rate by up to 80%.
Any product, no matter how serious or light-hearted, may be advertised with an animated film, whether you're attempting to sell apparel or books.
Consumers nowadays access web video content on a daily basis.

According to a recent study, watching videos accounts for one-third of all internet activity time.

As a result, in the competitive world of digital marketing, engaging your customers is critical, and it may be considered the first step toward making a sale.
Which also means that you must feature animated content that gives you the best possibility of successfully engaging with your customer.
Animated videos are an excellent approach to attract potential clients because they allow you to communicate important information in a fun and engaging way.
Google, like individuals, likes animated video material.

Including animated videos on your website is a great method to boost SEO and help your company rank higher in Google searches. This increases your visibility and accessibility to potential customers.
One of the many reasons that animated videos have seen tremendous development is because Google's algorithm for search rankings takes into account the amount of time visitors spend on your website.
In a sales meeting, what would you like to see?

Is it better to watch a boring PowerPoint lecture or an entertaining animated video?
Using an animation in a meeting to get your point through to potential clients and make a transaction is an impressive approach to do so.

Showing an eye-catching animation on your exhibition stand is also a great approach to lure people in and start a conversation.
If a potential buyer doesn't understand what you're selling, they're unlikely to buy it. The concept and operation of your product are explained in an easy-to-understand manner through animation.
Your company's products and services are intended to make your customers' lives easier. When it comes to communicating stories, animated videos may be very effective.

A 90-120 second animated skit depicting real-life examples of how your products and services will make your customers' lives easier will undoubtedly benefit your company.
Using an animated movie to promote your product, whether it's a whiteboard animation film or a 2D animation video, dramatically simplifies it.

With the help of an animated film, you can simply break down how your product works to its most basic form.
Animations, unlike live-action videos, do not age quickly. Fashions from a few years ago appear absurdly antiquated in live-action videos.

Choosing an animated video instead will save you money because it will appear newer for longer and will require less regular updating.
In addition, an animated video has the capacity to convey information in a couple of minutes that might otherwise take hours to read or listen to.

As a result, commissioning an animated video will save you valuable time.
Animation does not favor any certain age, race, or nationality when compared to actual human actors.

Because the internet is rapidly becoming a worldwide marketplace, this is critical. As a result, your company must appeal to everyone, regardless of their demographic.
As a business owner, you want to reach out to as many customers as possible and market your goods or services to them. Facebook, Twitter, and Instagram are major social media platforms that enable users to connect with millions of people across the world.
You may simply spread the news about your product or services with an animated movie, and in a fun and fascinating way.
You can convey any story you want with the help of an animated film
– how starting this business transformed your life
– how your product can improve the life of your client
– how your product gets your heart pounding, and so on.
You can use this creative vehicle to visually display and explain what you want to reveal about your goods to your clients.
Animated videos provide a fantastic opportunity to include logos, color schemes, and brand imagery into your video in an artistic way.

A series of animated videos can be used to establish recurring themes and brand icons. These are the key reasons why animation services are trending.
---
2022 – The Year of The Animation Services Surge
This year's animation is responsive to worldwide design and technology trends, and it will continue to evolve quickly.

In this article, we'll go over twenty-one of the most awesome and cutting-edge animation and motion graphics trends that will be used by companies design throughout the year..
The color palettes and overall style of motion design trends this year lean towards simplicity and have some nostalgic elements.

These 2022 animation trends are also influenced by fashion and media trends.
Animation appears to be the most efficient and entertaining for all types of video marketing, including explainer, commercial, and social media material.

As a result, animation is evolving and becoming more focused on specific industries.
More animation will be used in branding and advertising initiatives in 2022, with the goal of raising awareness, drawing attention, informing, and supporting.

Each of the following animation trends in 2022 are animation services that are in demand. Businesses are looking for them to suit their content style, channel, messaging, and audience.

The top animation and motion graphics trends are:
Thin Liner Animation is the epitome of "simplicity of genius," with minimalism still the current trend in both design and visual expression fields.

Thin Line Animation is quite useful. It can bring emphasis to the most important pictures, guide the viewer's gaze, and outline specific items, all while engaging the spectator in conversation.

Many businesses now use liner animation in their explainer videos. Thin line animation is set to become the most popular animation trend in 2022, thanks to its expanding popularity.
---
Characters do not have to be realistic to be approachable and interesting, according to recent animation trends. In 2022, schematic and cubical characters will be one of the 2D animation trends.
Another trend that developed this year and will govern the Animation business in 2022 is the creation of deconstructed and schematic characters.
---
Another trend that will dominate the industry in 2022 is combining diverse types of photography, graphics, and animation. One of the trendiest 2D animation ideas in 2022 is incorporating unexpected 3D features.

Today, this method is frequently employed in animated films, full-length and television animation, as well as advertisements and social media material.

It appeals to a wide range of target audiences and is expected to become another popular trend in 2022.

This year, 2D and 3D are still frequently blended in videos. Many motion designers combine them, claiming that it gives a video a distinct style and makes it more engaging for viewers. Integrating 2D and 3D animation, as well as introducing 2D over layers with movement, are the most often used examples of this approach.

This technique can be used in both large-budget commercial videos and small-scale digital advertisements.
---
Surrealism is not a new concept in art, but it is slowly but steadily gaining traction in animation today.
Digital surrealism, particularly in 3D Animation, is edgy and unsettling, but that is precisely what makes it one of the hottest trends in 2022.

Adding amazing images that appear familiar at the same time is what digital surrealism is all about. Evaporating items, magical formations, and other phenomena are visible to the users.

---
What began as a futuristic amusement aimed mostly at gamers in the mid-1990s has evolved into one of the most popular and profitable animation genres today.

Today, virtual reality is much more than just entertainment.

It is used in educational programmes and the media all around the world. We may rightfully identify VR Animation among the hottest animation trends 2022 as long as it is the industry's future.

We can now see designers focusing on superior quality surreal effects in virtual reality videos, which is increasing. Motion graphics animation for virtual reality allows you to be as creative as you want.

According to Globalnewswire, with a compound annual growth rate of 33.47 percent, the virtual reality market is expected to reach $44.7 billion in 2024.
---
This sort of animation is energetic, appealing, and easily loop able, making it especially useful in light of the growing popularity of short video content like Tik Tok videos or Instagram Reels.

In other words, in 2022, animated social media content or advertisements will be highly viral.

All of the aforementioned trends are expected to dominate in 2022 because they include popular modern technologies such as 2D and 3D animation, Thin Liner, and Liquid Motion, which function particularly well in explainer films, branding, and social media marketing material.

To make the most of the trendiest animation trends in 2022, you'll need to locate a studio that can take your ideas and turn them into high-quality material that speaks directly to your target audience.
---
Poetry thrives on laconism, and a few simple words can convey a lot.

The same may be said of colors. Instead of a rich palette with several semi-tones, today's trend is to create a visual tale with simply a few main colors. It's also one of the most popular digital illustration styles.

The animation looks both simple and complex while using a limited color spectrum.

It's a struggle for an artist to convey the mood and character of an artwork with only a few colors.

Despite the limited palette, the expertly crafted animation may appear to be highly appealing and exceptional. Such animations frequently have a retro and nostalgic vibe to them.
---
In the video, lines serve a variety of purposes. They direct traffic, define shapes, and even set the tone.

Thin lines, on the other hand, play a particularly interesting role this year. Artists aim to make animations that look like real hand-drawn graphics by making them super-thin but extra-distinctive. It gives the videos a distinct look.

In 2022, the effect of linear art in animated videos has become one of the cutest trends.

Many companies have used promotional and explainer videos to demonstrate the strength of this trend. Explain Ninja developed an animated video that offers a great example.
---
Because of the significant risk of impaired readability, many artists are hesitant to experiment with fonts and typefaces. However, in 2022, they take on new typographic difficulties, defy established norms, and produce surprisingly good outcomes.

It appears that kinetic typography claims to go beyond the boundaries of traditional typography by encouraging letter stretching, bending, and distorting. What's more, surprise! It is well received by the public.

Ecommerce websites and mobile apps that use animated movies with kinetic typography attract more attention, make a brand distinctive, and exhibit outstanding performance.
---
Morphing continues to gain traction in 2022. It's a transition effect in motion pictures and animations that seamlessly transforms one image or shape into another.

In today's world, the idea of morphing characters, logos, images, and other items in a film is growing ever more popular.

It acts as a visual magnet, attracting our attention and compelling us to watch the impact until it is over.

This approach is especially beneficial in website animation since it keeps the visitor's attention on the page and extends their time on the site.

As a result, it helps with search engine optimization since Google favors sites that are so interesting that users spend more time interacting with them than the norm.
---
Businesses aim to include animation in various branding materials in their quest for a dazzling and memorable online presence. Animated logos have already established themselves as one of the most important design trends in brand identity.

Motion graphics give staid lettering and iconography new life, making a brand more appealing and exciting to customers.

Animated logos are frequently connected with a brand's tendency to innovate and deliver something new to its customers because of their unexpected motions and twists.
---
The grain is a tool that painters use to give their images a more realistic look. It adds texture to vector artwork and gives illustrations a new lease on life. The images appear to be a little rougher, more realistic, and more akin to real-world surfaces and textures.

The grain effect animated videos stand out from the crowd and help firms present eye-catching pictures to their customers. Such animation demonstrates a company's commitment to handcrafted quality and originality.
---
Around 6 billion individuals use mobile phones around the world. This number is only going to rise. This large number of individuals using vertically oriented devices has a significant impact on how we view media on a daily basis.

Vertical animations are likely to be one of the most important motion graphic trends in 2022.

We consume our media products vertically on TikTok, Instagram, and Facebook, among other platforms.

Only a small percentage of people move their phones or tablets horizontally to view a video or photograph. Vertical videos for Instagram stories, TikTok, and Facebook advertisements have become increasingly popular as a result.
---
Using hybrid approaches in a single video is another video design trend for 2022. The majority of hybrid videos blend 2D animation with 3D components, as well as live-action footage.

The finest motion graphics 2022 manage to incorporate multiple art forms into a single product, and we may think about how one type of animation compliments another in exciting and imaginative ways.
---
A film with self-drawing lines may be the perfect alternative if you're seeking for something more serious and serene in 2022 motion graphics trends.

With this design, you can easily notice a thin line producing diverse figures, logos, words, and other notions.

It might be one of the best motion design trends for new product presentations, explainer videos, or presentations for college class business meetings.
---
The goal of isometric design is to portray 3D components on a 2D screen.

This sort of design is effective at drawing attention to important objects.
---
Web and Apps Motion Graphics
According to the report, 38% of users will not engage with unappealing websites and apps.

Motion graphics themes are becoming increasingly popular in online and mobile apps for retaining visitors with dynamic logos and bringing life to monotonous visuals and loading screens.
---
In 2019, you may expect to see more retro motion graphics. It is used by designers to keep videos fresh and create a nostalgic sense to them.
---
Designers are increasingly employing streamlined technologies and reducing the amount of cuts in order to give the video a more natural feel, resulting in a fluid flow.
---
Adding intricate visual effects to a video is now attracting viewers' attention. Explosions, firestorms, and other computer-generated graphic animations are examples of scenes that can be added to a video.
---
Designers are increasingly experimenting with broken sentences to give the film lyrical significance, and the public is responding enthusiastically. Many others appear to be experimenting with it.
---
The last trend we'll discuss in this piece is New Minimalism. It's a more advanced kind of minimalism, which consists just of text. We add new simplicity to the video by adding textures, loop able sound, bold flowing styles, and more.
---
What is the business impact of animation? How can storytelling convey a long message in a short time effectively?
The explainer video is an excellent marketing tool for highlighting the characteristics and benefits of a specific product.
Motion graphics is a term used to describe when a video has a large number of texts and visuals. It is the most effective kind of animation for bringing storylines to life in otherwise lifeless videos.

Motion graphics are an appropriate sort of animation to amplify the message given by motion graphics.
Whiteboard videos – In these videos, the illustrator is shown physically sketching the artwork on a whiteboard with pens and markers. After YouTube was founded in 2005, this form of animation became increasingly popular. You should employ whiteboard videos in marketing to advertise your company and communicate with your audience.
Following the production of the company product, it is time to make plans for the product's proper marketing. You can expect a higher sales rate of your goods depending on the extent of promotion.

As a result, animation videos are used for marketing, and you should contact a video production firm that provides high-quality service.

The following are some of the benefits of hiring an animation services company to create custom animated videos
Animated videos can help a company's website's SEO.
Animated videos can help improve the search engine ranking of a company's website. It's clear that animated videos are used on the most popular pages.

It's also worth noting that pages with appropriate animated videos get more backlinks. Adding animated tools to the corporate site is advantageous even for the SEMrush optimization tool.
Animated videos are simple to comprehend.
Promoting products via whiteboard animation or 2D animation is a viable alternative. It aids in the description of the goods to the clientele. As a result, employing animated movies to communicate your goods in the simplest way possible is advantageous.

An animated video has a strong impact.
Animated videos are a good way to better engage your customers with your video. The stories and graphics have proved that they attach better to the customer's images. Customers remember the videos better than others because they offer intriguing features.

As a result, the company is able to keep ahead of the competition.

If you want to use animated videos to help your business expand, make sure you hire a reputable Animated Video Production Company. It aids in the implementation of effective marketing strategies using animated videos.

Increase the conversion rate
Animated videos are an excellent way to boost sales and meet corporate objectives. The greatest way to communicate your product message to your target demographic is through informative and appealing videos. Incorporate animated videos for a long-lasting effect.
Pique the audience's interest
If you suspect that clients would find it difficult to comprehend the company's offering, animated films are an excellent way to pique their interest.
Incorporate compelling material into the animated video to maintain your company's internet exposure.

Appropriate for brand recognition
Animated videos are ideal for establishing a company's identity. Knowing how to show your goods in the market is critical for proper brand awareness.
Different animated videos make it simple for your target audience to consume your product, and they can readily relate to your brand as a result.

It's simple to share
The animated videos are simple to share across a variety of platforms. This raises the visibility of your video and aids in the creation of relationships with possible customers in the market through the use of your brand.
---
Summing it up
In several sectors of life and worldwide industries, 2022 will be a year of important starts and breakthroughs.

These favorable changes in human perception of the surrounding world and its beauty have also influenced animation and motion design trends.

The growth of video design trends is unstoppable. They are particularly sensitive to societal changes and reflect them.

We've compiled a list of the most important motion design trends for this year.

Despite the popularity of certain sorts of movies, a motion graphic artist must remember that video selection is heavily dependent on the nature of the video.

For example, if you're selling medicinal vitamins, you can't use rock music in the entrance just because the trend is popular.

Having said that, the animation trends we've listed above have a good possibility of being effective in the majority of enterprises that use motion graphics animation.

Examine each one of them and choose the most suited animation trends for your needs.
What do you think will be the most popular motion graphic trend in 2022?

Please do not hesitate to contact us if you are having trouble generating motion graphic videos. We are here to help.

---