Whether you're a business owner of an agency or an online store, SEO is essential for the expansion of your enterprise.

Your online presence will languish on Google's bottom pages if you don't invest in SEO. And that's not what you want.
Sadly, the majority of SMBs lack the technical know-how necessary to implement SEO on their own.

The role of SEO agencies in this situation is crucial. As they use their marketing charisma together with the SEO agency software that is considered to be standard in the industry to increase brand visibility and direct organic traffic to websites.
Experts at the agency are aware of the best "growth hacks" to use to achieve the desired organic results.
There are hundreds of factors to improve rankings, from technical SEO to on-page SEO. Plus, it's considerably more challenging to rank higher without expert help because of Google's constantly evolving SERP policies.
However, we are on the scene to help. Below is also a list of the top SEO companies in the world that can improve your ranking and provide top-notch SEO services.
---
Related Reading: The Best Mobile Game Development Companies in The World
---
What is SEO & why is it important?
If not, you can quickly look up the definition of SEO on Wikipedia. However, knowing that SEO is "the process of affecting the visibility of a website or a web page in a search engine's unpaid results" doesn't really help you find the answers to questions that are crucial for your company and your website, like:
– How can you "optimize" your website or the website of your business for search engines?
– How can you make your website more visible in organic searches so that people can find your information quickly?
– How can you determine how much time to devote to SEO?
– How can "excellent" SEO advice be distinguished from "poor" or damaging SEO advice?
As a business owner or employee, you're probably interested in learning how you can use SEO to increase relevant traffic, leads, sales, and ultimately revenue and profit for your company. That's what we'll focus on in this SEO article.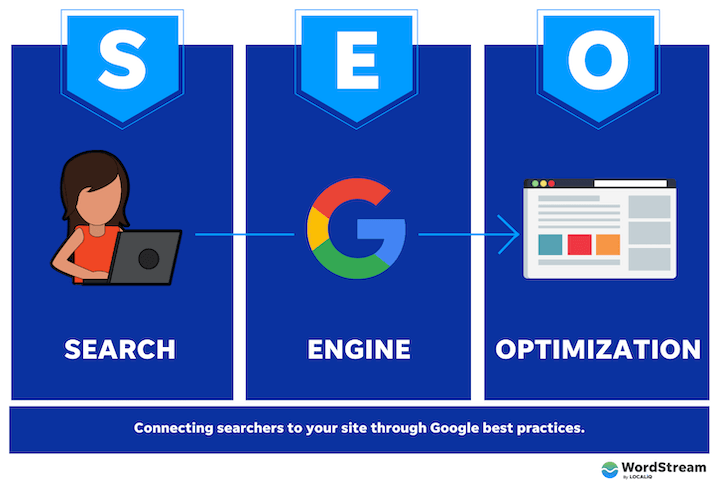 Why should you care about SEO?
Many, many individuals look for things. Not only is there a lot of traffic, but there is a lot of very targeted, high-intent traffic, which can be incredibly strong for a business.
If you sell blue widgets, would you rather appear when someone searches for "buy blue widgets" anywhere in the globe or purchase a billboard so anybody driving by in your neighborhood sees your advertisement (regardless of whether they will ever be interested in blue widgets or not)?

Most likely the latter, as they are rising up and expressing a desire to purchase something you have to offer, demonstrating their commercial motivation.
People are looking for all kinds of things that are directly relevant to your company. In addition to that, your prospects are also looking up a variety of topics that have only a passing connection to your organization.
These present even more chances to get in touch with those people, assist them in finding solutions to their issues, and establish yourself as a reliable resource for them.
Which website—one you've heard of before or one you trust—offered excellent advice each of the last four times you searched Google for assistance with a problem?
---
Related Reading: The Best Social Media Marketing Companies in The World
---
What SEO actually works for driving traffic from search engines?
First, it's crucial to remember that Google accounts for the majority of global search engine traffic (though there is always some flux in the actual numbers).

The main player in the search results that your company or website would want to appear in is probably Google, though this may vary from niche to niche.

The best practices indicated in this article will assist position your site and its content to rank in other search engines as well.
Search results are always changing, no matter what search engine you use.

Many of the simplest and least expensive methods for getting your pages to rank in search results have changed drastically in recent years due to Google's updates to how they rank websites using a variety of animal names.
How does Google choose the pages to display in response to users' searches? How do you attract so much worthwhile traffic to your website?
At a very high level, Google's algorithm is quite sophisticated, and I'll give some resources at the conclusion of this section for anyone wanting to learn more about how Google ranks websites.
Google seeks out web pages with reliable, pertinent data pertaining to user queries.
They "crawl" (or scan) your website's content to establish its relevance by assessing (algorithmically) whether it is pertinent to the searcher's query, primarily based on the keywords it contains.
They use a variety of criteria to judge "quality," but one of the most important is the quantity and caliber of other websites that link to your page and your entire site.

Simply put: If my blue widget site receives links from reputable sources that are frequently linked to, such as CNN.com, and your blue widget site receives links only from blogs that no one else on the Web has linked to, my site will be more trustworthy (and regarded as being of higher quality) than yours.
Google's algorithm is increasingly taking into account other factors to determine where your website will rank, such as:
– How users interact with your website (Do they find what they're looking for and stay on your site, or do they leave and go back to the search results page, where they click on another link? Or do they simply never click through after seeing your item in search results?
– How much original content you have (as opposed to very "thin" duplication or low-value content)
Google's algorithm takes into account hundreds of ranking indicators in response to searches, and it is continually being updated and improved.
The good news is that anyone can rank for important terms in search results; you don't need to be an expert in search engines.

We'll go through tried-and-true best practices for search engine optimization that will help you increase focused visitors through search without having to dissect one of the most valuable firms in the world's core competencies.
There are a tonne of excellent resources available if you're interested in learning more about how search engines function, including: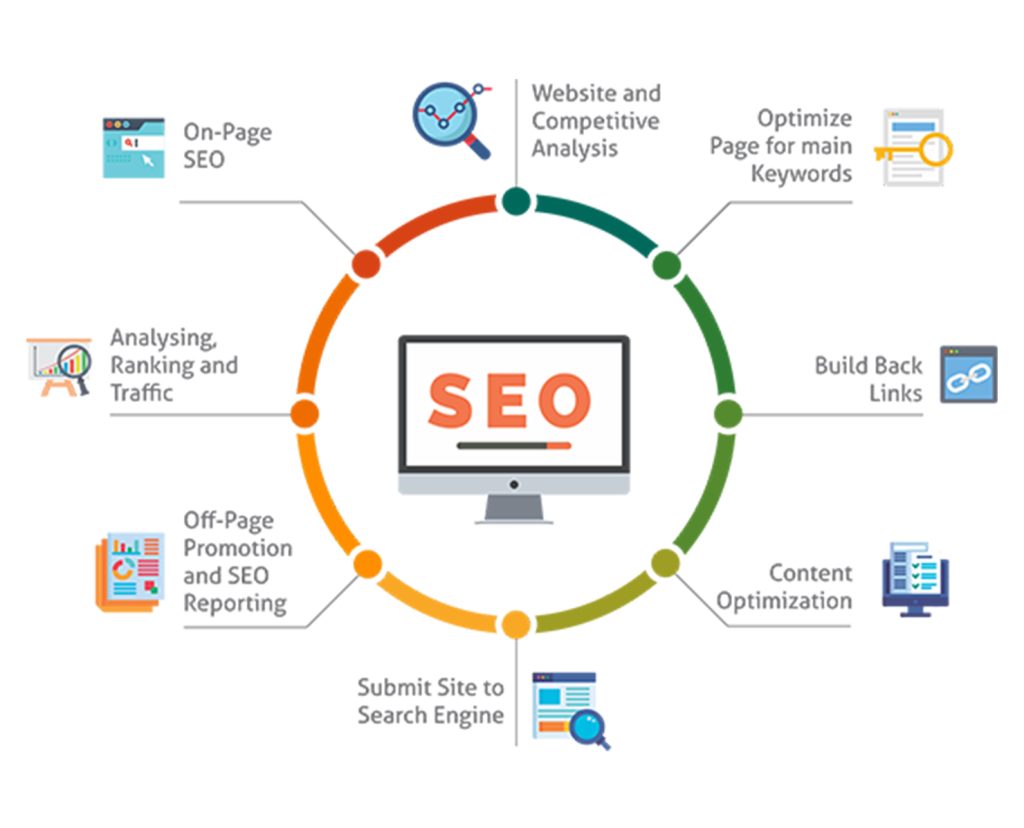 What are some effective SEO techniques and methods?
Let's discuss the actual SEO techniques and methods that will increase your website's search engine traffic.
Keyword research & keyword targeting best practices
Finding out what you are truly optimizing for is the first step in search engine optimization. This entails choosing the keywords—also referred to as search terms—that you want your website to rank for in search engines like Google.
Sounds easy enough, doesn't it? If someone searches for "widgets" or types in phrases like "purchase widgets," I want my widget business to come up. Step three is next.
Search activity for SEO terms
Regrettably, it's not quite that easy. When choosing the keywords you wish to use to drive traffic to your website, keep the following in mind:
– How many people (if any) are actually searching for a particular keyword should be the first thing to take into account.

You have a greater chance of reaching a larger audience if more individuals are using a given term. On the other hand, if no one is using a keyword, there will be no audience to discover your material through search.
Relevance
It's fantastic if a term is commonly searched for, but what if your prospects don't fully understand its relevance?

At first glance, relevance seems simple: if you sell enterprise email marketing automation software, you don't want to appear in searches for terms like "pet supplies" that have nothing to do with your industry.

What about phrases like "email marketing software," though? This might at first glance seem like a perfect way to describe what you do, but if you're targeting Fortune 100 organizations, the majority of traffic for this highly competitive phrase will come from people who are not interested in purchasing your software (and the folks you do want to reach might never buy your expensive, complex solution based on a simple Google search).

In contrast, you may believe that a tangential term, such as "top corporate PPC marketing solutions," has little bearing on your company because you don't offer PPC marketing software.
But if your potential customer is a CMO or marketing director, presenting them with a useful guide on assessing pay-per-click technologies could be a great "first touch" and a fantastic approach to begin a relationship.
---
Related Reading: The Best Android App Development Companies in The World
---
Competition
Similar to any other business venture, SEO requires you to weigh the risks and chances of success. Understanding the relative competitiveness (and chance to rank) for particular terms is important for SEO.
To start, you must comprehend who your potential clients are and what they are going to look for online. If you don't already know who your potential customers are, you should consider this for both your business generally and for SEO.
You then wish to comprehend:
– What sort of things are they drawn to?
– What issues are they facing?
– What terminology do they employ to describe the actions they take, the instruments they employ, etc.?
– Who else are they purchasing from (this refers to your rivals, but it might also refer to tangential, complementary tools; for an email marketing firm, consider other business marketing solutions)?
You'll have a preliminary "seed list" of potential keywords and domains once you've responded to these queries, which you can use to generate more keyword suggestions and play with metrics like search volume and competition.
Start by entering the key phrases your potential clients and customers use to describe what you do into keyword tools like Google's own keyword tool, Ubersuggest, or WordStream's keyword tool:
The essential notion is that in this initial step, you'll want to conduct several searches using a range of various keyword tools.

You can find a more extensive list of keyword tools below. To find out the keywords your rivals are ranking for, you may also use tools for competitive keyword research like SEM Rush.

These tools analyze tens of thousands of search results and will display every keyword that one of your competitors has recently begun to rank for in Google.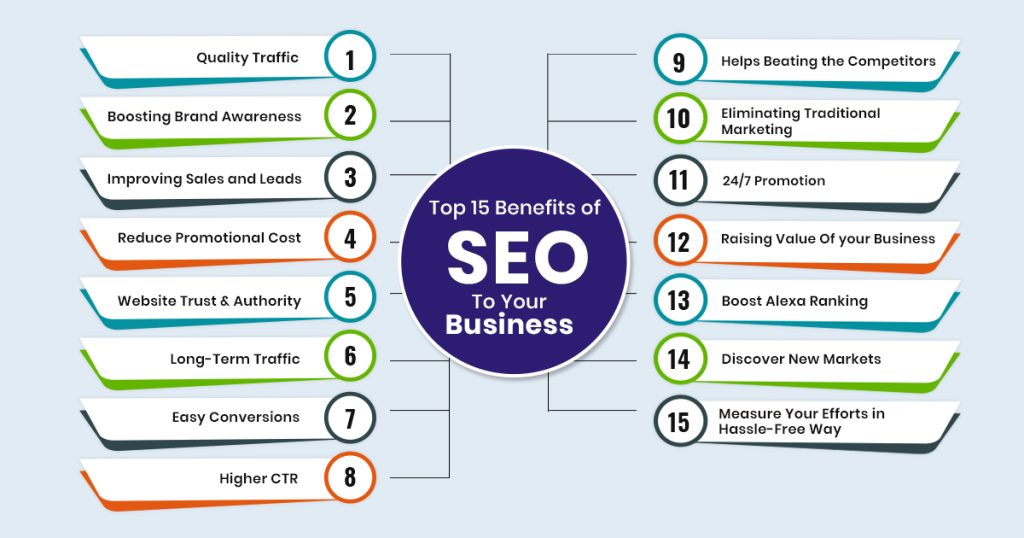 Keyword Data
Once more, this isn't only something you should consider for rivals. For content ideas, you may look at complementary products that cater to the same market.

You could also analyze what kinds of keywords are bringing traffic to the large niche publishers who write about your subject (and that your prospects are reading).
Additionally, if you currently have a website, you probably already receive some traffic from search engines.

If so, you can use some of your own keyword data to determine the search keywords that are bringing in the most visitors (and which you might be able to rank a bit better for).
However, you can use tools of a similar nature on your own website to get a sense of the terms you're ranking for and their estimated search volume.

Unfortunately, Google has stopped providing analytics providers with a lot of the information about what people are searching for online.

A little more of this information is also made available by Google in their free Google Search Console interface (if you haven't created an account, this is a very useful SEO tool for discovering search query data and for identifying various technical SEO issues; more information on Google Search Console can be found here).
When Google Search Console is configured, you can log in and visit this link to see the search terms that are bringing visitors to your website:
These could be effective "seed keywords" to assist you come up with more amazing ideas about what to target.

They could also be effective terms to focus extra content promotion and internal linking around (more on each of those subjects later).
You need to work to understand which terms you could possibly rank for and where the best opportunities actually are once you've taken the time to understand how your prospects talk and what they search for, looked at the keywords driving traffic to your competitors and related sites, and looked at the terms driving traffic to your own site.
Finding out how competitive a keyword is can sometimes be a difficult undertaking. At the highest level, you must comprehend:
– How trustworthy and authoritative other full sites that will be vying for the same position are (or, more specifically, how many links the entire site receives and how relevant, high-quality, and trustworthy the connecting sites are)?
– How closely they relate to the keyword itself (do they provide an excellent response to that searcher's inquiry)
– How well-known and reliable each particular page in that search result is (i.e., how many links does the page have, and how reliable, trustworthy, and pertinent are the sites linking to it)?

By using Larry Kim's competitive index formula, created by the founder of WordStream, or Backlinko's comprehensive guide, you may learn more about how to determine how competitive keywords are (tip number 3).
Additionally, there are other tools (most of them paid) that provide keyword difficulty scores:
Moz's keyword analysis tool for SERPs and difficulty
Keyword Difficulty Tool from SEMRush
Ahref's Keyword Difficulty Tool
The Keyword Difficulty Tool from Seoprofiler
We have a number of excellent resources on the subject if you want to learn more about keyword research and keyword targeting:
The Big, Easy Guide to Keyword Research by WordStream
On this subject, Moz also has a fantastic guide.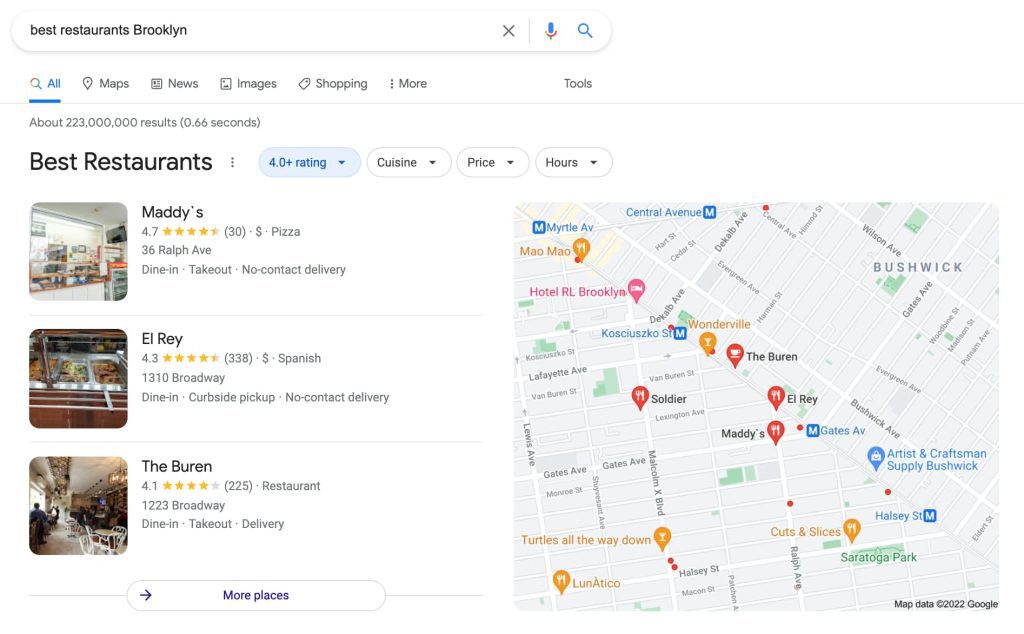 On-page optimization
The next step after creating a keyword list is to include your chosen keywords into the text of your website. Your website's pages should each target a primary keyword and a "basket" of closely related keywords.
As you consider how to increase traffic from search engines to your website, let's take a closer look at a few crucial, fundamental on-page components you should know:
Title Tags
Include the phrase (and related terms) that you want to rank for in your pages even though Google is attempting to better comprehend the real meaning of a page and is de-emphasizing (and even punishing) aggressive and manipulative usage of keywords. The title tag of your page is where you can use your keyword with the greatest impact.
The principal headline on your website is not in the title tag. The page's headline is normally an H1 HTML element (or perhaps an H2 HTML element).

The title tag, which appears at the top of your browser, is filled out by the source code of your page in a meta tag:
---
Related Reading: The Best IPad App Development Companies in The World
---
Title Tag vs Page Title
Google will display title tags of varying lengths (depending on pixels, not character counts), but in general, 55–60 characters is a decent guideline.

If at all possible, incorporate your main keyword as well as any relevant modifiers that can be added around it in a convincing and natural way.

But bear in mind that a searcher will frequently see your page's title tag in search results. You should also consider how clickable your title tag is since it serves as the "headline" in organic search results.
Meta Description
The meta description, another meta HTML element that can be altered in your site's code but is not visible on your actual page, is essentially a supplementary ad copy for your site, whereas the title tag serves as the headline for your search listing.

Your meta description might not always appear in search results due to Google's latitude in what it shows, but if you have a captivating description of your website that would encourage people to click, you can significantly increase traffic.

Keep in mind that appearing in search results is only the first step! You still need to draw visitors to your website so they may complete the desired action.
Body
Of course, the actual content of your page itself is crucial. Distinct types of pages will perform different "functions"; for example, your cornerstone content asset, to which you want many people to connect, needs to be very different from your support content, which you want to make sure users can quickly locate and access.

However, Google has begun prioritizing particular kinds of content more recently, so if you develop any of your site's pages,
If so, look for a way to "thin" those pages or check your analytics to see how much traffic they receive before simply excluding them (using a noindex meta tag) from search results to avoid giving Google the impression that you're trying to overstuff their index with low-quality pages in an effort to get them to rank.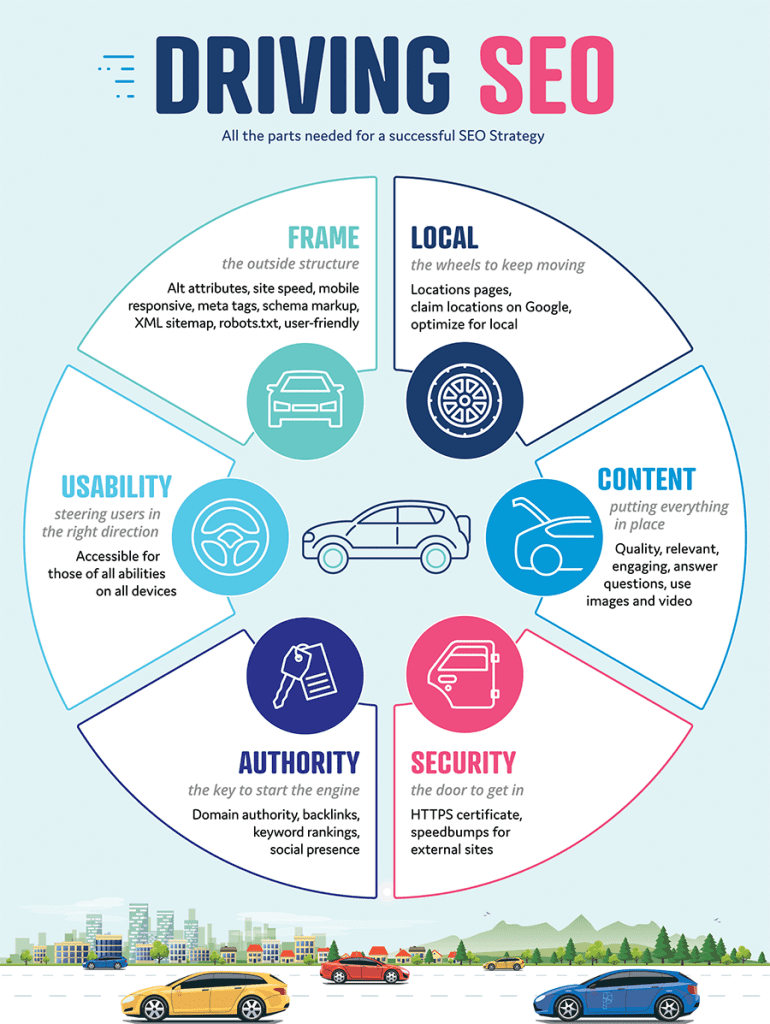 Engagement
Google is giving user experience and engagement measures more weight. By making sure your content responds to the queries searchers are posing, you may influence this and increase the likelihood that they'll stay on your page and interact with your material.
Make sure your pages load quickly and are free of design aspects that can turn off searchers and drive them away, such as too pushy adverts above the content.
Shareability
Not every piece of content on your website will receive hundreds of links and shares.

However, you should also take into account who would be likely to share and link to new pages you are creating on your site before you roll them out, just as you want to be careful not to roll out large quantities of pages with thin content.

Having a lot of pages that aren't going to get shared or linked to makes it difficult for those pages to rank effectively in search results and makes it difficult for search engines to form an accurate impression of your site as a whole.
---
Related Reading: The Best iPhone App Development Companies in The World
---
---
Alt Attributes
The way your photos are tagged might affect how search engines interpret your page as well as how much traffic from image searches your website receives.

If a user is unable to view an image, you can still provide alternate information for it using the HTML element known as the alt attribute.

Having a useful description of the image can be beneficial from an overall usability perspective since your images may break over time (files get deleted, users have trouble connecting to your site, etc.).

This provides you with yet another chance, separate from your content, to inform search engines of the subject matter of your page.
You don't want to "keyword stuff" your alt attribute by stuffing it full with your main keyword and all of its variations.

In fact, if your goal keyword doesn't naturally fit into the description, leave it out entirely. Just be sure to include an accurate, thorough description of the image in the alt attribute (imagine that you're describing it to someone who can't see it; that's what it's there for!).
In other words, it doesn't appear as though you're trying to trick Google into ranking your page for your target keyword.

By writing naturally about your topic, you also increase your chances of ranking for worthwhile modified "long tail" variations of your main topic.
URL Structure
The URL structure of your website might be crucial for tracking (a segmented, logical URL structure makes it easier to segment data in reports) as well as shareability (shorter, descriptive URLs are easier to copy and paste and tend to get mistakenly cut off less frequently).

Once more, don't try to stuff as many keywords into your URL as you can; instead, make it brief and meaningful.
Furthermore, avoid changing your URLs if you can. Don't change your URLs to be more keyword-focused for "better SEO" if you don't feel that they are having a negative impact on users or your business in general, even if they aren't "pretty."
Schema & Markup
Finally, after you've taken care of all the essential on-page components, you might want to think about taking further steps to make it easier for Google (and other search engines, who understand schema) to comprehend your page.
Because schema markup is presently not a ranking criterion, your page will not appear higher in search results.

Similar to what ad extensions do for your Google Ads (previously known as AdWords) ads, it does give your listing some additional "real estate" in the search results.
If no one else is using schema, you may gain a significant click-through rate advantage in some search results by virtue of the fact that your site displays ratings while others do not.

Having reviews may be "table stakes" in other search results where everyone is utilizing schema, and you might be hurting your Google CTR by doing so:
Schema
There are many different kinds of markup you may use on your website; while most of them definitely won't apply to your company, it's probable that at least one of them will for some of the pages on your site.
Any of the following resources can help you learn more about schema and markup:
– The WordStream manual for schema for SEO
– With Google's structured data testing tool, check to see if the markup on your website is currently recognized.
– The Rich Snippets Guide from BuiltVisible
Information Architecture & Internal Linking
Information architecture describes the layout of your website's pages. How varied information on your site ranks in search results can be influenced by the structure of your website and the links that connect its pages.
This is due to the fact that links are viewed by search engines as "votes of confidence" and a way to gauge the importance and subject matter of a page (and how trusted it should be).
Using anchor text, or the actual text you use to link to pages, helps search engines, such as Google, understand the content of the page to which the link points.
Anchor Text
Similar to how a link from CNN suggests that your website may be important, aggressive linking to a particular page from various parts of your website tells search engines that the page in question is crucial to the success of your website.

Furthermore, the pages on your site with the most external votes (links from other, reliable sites) have the greatest influence on how well the other pages on your site perform in search engine results.
This is related to the idea of "PageRank." Although PageRank is no longer used in the same manner as it was when it was first introduced, the following are some excellent resources to learn more about the subject:

A good math-free explanation of PageRank
To better illustrate how link equity—the quantity and quality of connections pointing to a page—influences site design and internal linking, let's go through a brief example. Consider a location where snow is being removed:
We release a ground-breaking study on how snow affects construction during the winter in cold climates. It receives links from all across the internet.
On our main website for snow removal, the study is published. The remaining pages are all straightforward sales pages that detail different parts of our company's snow removal services. None of these pages are linked from any other website.
The study itself might be in a good position to appear highly in search results for a variety of terms.
Much less so on the sales-oriented pages. But we can transfer some of the authority and trust of our study onto our most significant sales-oriented pages by linking from our study to them.

They won't rank in search results as highly as our study did, but they will be much better positioned than they were before there were any authoritative documents (on our site or on other sites) pointing to them.
The supplementary resources about information architecture listed below:
– Richard Baxter's talk on Moz RKG's approach to site architecture and Moz's Whiteboard Friday's Information Architecture for SEO
– The WordTracker site structure creation manual
– An informative article from Distilled on planning your site's information architecture is available.
Content Marketing & Link Building
Having a lot of high-quality links pointing to your site is obviously crucial for generating search traffic because Google's algorithm is still largely based on links.

Regardless of how much work you put into on-page SEO and technical SEO, if you don't have links pointing to your site, you won't appear in search results listings.
There are many ways to obtain links to your website, but as Google and other search engines develop, many of them have grown to be very risky.
These riskier and more aggressive means of trying to get links are probably not a good fit for your business if you are new to SEO and looking to leverage the channel because you won't know how to properly navigate the pitfalls and evaluate the risks.

In the event that the search engine algorithms change and your ranks vanish, trying to build links specifically to influence Google results doesn't add any other value for your company.
Focusing on more general, sustainable marketing strategies like producing and disseminating helpful content that includes specific terms you'd want to rank for and engaging in conventional PR for your company are more sustainable methods of link building.
It takes a lot of work to develop and market content that will result in links and social shares. There are many other ways to efficiently develop content, help it to get discovered, and rank well in search results.

Once more, you'll find more thorough step-by-step guidance to various parts of content marketing below. However, the majority of strategies will call for you to perform one of the following three fundamental steps:
1. Identify & understand your linking & sharing audience
Understanding who is likely to link to and share your material is the first step in attempting to gain traction for it.

There are a number of tools to help you find influencers in your niche who might share your content, but BuzzSumo is likely the most effective.
The goal of using these tools is to first locate thought leaders and potential linkers in your industry, then comprehend what they are linking to and sharing.

Consider how you can create something they would find valuable and want to share with their audience after learning about their issues and the kinds of content they typically share.
Start considering what you can do for these influencers as you go through this process.

– How might you assist them with their individual projects?
– What can you do (uninvitedly) to support them in achieving their objectives? – What could you produce or provide that would be useful to the audience they are attempting to reach with their content?
– Do you have access to particular information or knowledge that would improve their performance at work? If you can consistently help knowledgeable content producers in your niche, you'll start to forge strong bonds that will benefit your content creation efforts.
Before you produce a significant piece of content, you should have already considered how it will be shared, including who will share it and why.
---
Related Reading: The Best Android App Development Companies in The World
---
2. Determine what content you can create & how you can promote it
The next step is to attempt to comprehend your own capabilities and the types of material you can produce that are likely to be shared and promoted by others. A content audit could be useful here.
There will be a variety of content assets that can be shared, including:
– Make something that addresses the challenges of your clients and potential clients.
– Reverse engineer existing solutions. You can help reduce risk and make your content as fail-proof as possible by taking inspiration from what already works and developing something that is one or two notches better in some way.

Showcase the fantastic tools you employ every day. Ask smart people in your niche to respond to challenging questions, then distribute their answers (while positioning them as experts).

They'll probably assist you share and market that information if you've recognised them or their offering as a useful resource.
Focus on producing valuable content assets, having a strategy for promoting those assets, and don't be shy about telling those you've featured or whose audience would profit from your resource that it is available.
3. Map your assets to specific keywords
Last but not least, remember your keywords! This isn't to say that you should stuff irrelevant keywords into every time you create a valuable resource; rather, it means that you can use keyword research to identify pain points (if people are using search engines to find things, they want content that answers their questions well! ), and that as you create new assets, you should consider how you can incorporate the language your prospects and customers are using into your content (as you will increasingly need to get some sort of distribution for pages where you want them to rank for valuable keywords).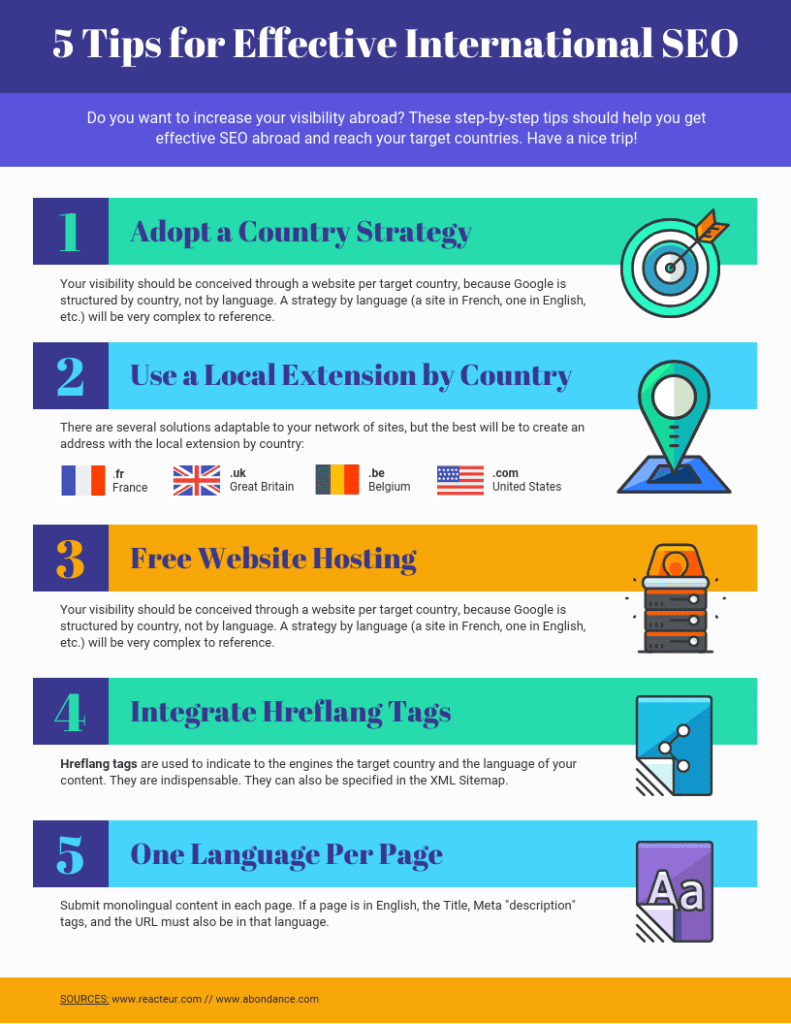 What are the common technical SEO issues & seo best practices?
Although the fundamentals of SEO, such as the most effective methods of link building to drive search engine rankings, have changed recently (and content marketing has become more crucial), what many would consider more "traditional SEO" is still incredibly valuable in driving traffic from search engines.

Keyword research is still useful, as we've just covered, and technical SEO problems that prevent Google and other search engines from comprehending and ranking websites' content are still a problem.
Even small to medium-sized organizations can benefit from being aware of some typical errors and problems that most sites suffer. Technical SEO for larger, more involved sites is essentially its own field.
Page speed
The good news is that having quick-loading websites benefits your users and your site's conversion rates as well as search engines, who are placing a growing focus on having such websites.

In order to provide you with some precise recommendations on what to alter on your website to address page speed concerns, Google has actually designed a helpful tool.
Mobile Compatibility
How "mobile friendly" your site is will affect your ranks on mobile devices, which is a fast-growing market, if your site is driving (or could be driving) significant search engine traffic from mobile searches. Mobile traffic has already surpassed desktop traffic in some markets.
Google has revealed an algorithm change that expressly addresses this. My most recent post offers more information on how to determine the type of mobile search engine traffic that is directed to your website as well as some specific suggestions for things to update.

Google also once again provides a very helpful free tool to help you determine how to make your website more mobile-friendly.
---
Related Reading: The Best Educational App Development Companies in The World
---
Header Reaction
A major technical SEO concern is header response codes. You want to make sure that functioning pages are returning the appropriate code to search engines (200), and that pages that are not found are also returning a code, but if you're not particularly technical, this can be a complex topic (and again, more thorough resources are listed below).
Making a mistake with these codes can give the impression that a "Page Not Found" page is thin or duplicated to Google and other search engines, or even worse, you can tell them that your whole website's content consists of 404 errors (so that none of your pages are indexed and eligible to rank).

To examine the status codes that your pages are returning when search engines crawl them, utilize a server header checker.
Redirects
Redirects can seriously affect search results on your site if they are implemented incorrectly.

In other words, if your content is on example.com/page and that page is receiving search engine traffic, you don't want to move all of the content to example.com/different-url/newpage.html unless there is an extremely strong business reason that would outweigh a potential short-term or even long-term loss in search engine traffic.
You want to avoid moving your site's content whenever you can.
If you do need to transfer content, make sure to utilize permanent (301) redirects rather than temporary (302) redirects, which are typically used by developers and tell Google that they shouldn't shift all of the link equity and ranking power to the new URL because the move might not be permanent. (Furthermore, altering your URL structure may result in broken links, harming your referral traffic streams and making it challenging for users to navigate your website)
Duplicate Content
Another area of attention with Google's recent Panda adjustments is thin and duplicated material.

You have less of a chance to rank for competitive terms than sites that are consolidating their link equity into a single document if you duplicate content (post the same or nearly similar information on numerous pages instead of concentrating it on one).

Large amounts of duplicate content give the impression to search engines that your website is cluttered with low-quality (and possibly manipulative) content.
Duplicate or thin content might result from a variety of factors. These issues can be challenging to identify, but you can quickly check in Webmaster Tools under Search Appearance > HTML Improvements.
Duplicate Content Issues
Additionally, see Google's own analysis of duplicate content. Duplicate content can also be found using a number of premium SEO tools, like Screaming Frog SEO Spider and Moz analytics.
Sitemap XML
XML sitemaps can aid Google and Bing in comprehending and locating all of the content on your website. Just be careful not to include useless pages, and be aware that just because a page is included in a sitemap doesn't mean it will rank for anything. There are several free programmes available to create XML sitemaps.
Robots.txt, Meta Noindex, & Meta Nofollow
In a robots.txt file, you can tell search engines how to treat particular information on your website (for example, if you don't want them to scan a certain area of it).

Your site probably already has a robots.txt file located at yoursite.com.
Make sure that nothing you'd want a search engine to find is currently being prevented from being indexed by this file.

You can also use the robots file to prevent things like staging servers or large areas of thin or duplicate content that are valuable for internal use or customers from being indexed by search engines.

Although they operate differently from one another, the meta noindex and meta nofollow tags can be used for comparable reasons.
Security
For technical SEO, site security is essential. You should ensure that your site is served over https rather than merely http in addition to maintaining it in terms of plugins and comment spam.

You need an SSL certificate to accomplish this. One can be obtained in a number of ways, including using HubSpot's SSL certificate.

How to track & measure SEO results?
How do you actually monitor how well your fantastic SEO content is performing once you've started generating it and have taken all of these steps?
On the surface, this question appears to have a very simple solution with a few important SEO indicators to concentrate on, but with each metric, there are certain key aspects to take into account when you gauge the SEO success of your site.
Keyword rankings
You can't pay your staff in rankings, personalisation in search results has made them unpredictable across different locales and difficult to measure, and of course all they represent is where you show up in search results, so looking at where your site ranks for a list of keywords isn't the end goal.

Some people would even go so far as to say they were deceased. However, gaining a general understanding of your site's position for key terms can be a helpful leading indicator of your site's health. High ranks across a variety of keywords are a reliable sign of presence in organic search.
This does not imply that you should become unduly fixated on rankings for any one term. Remember that your ultimate objective is to increase relevant traffic that results in more sales.

For example, if you sell blue widgets, is it more crucial that you rank for "blue widgets" or that you develop and implement an SEO strategy that enables you to increase sales of blue widgets in the most effective manner at the lowest possible cost? Use rankings as a general health check rather than a KPI for planning your course.
Several tools are available to you to check your ranks. The majority of them offer largely comparable functions, although other solutions have special features like local or mobile rankings.

We advise choosing a free and simple-to-use tool if you're a small business or just starting out with SEO and focusing on a limited number of the key terms you want to track to assist you track your progress.
Organic Traffic
A much better leading indicator of the effectiveness of your SEO work is organic traffic. You may get a sense of the actual number of visitors arriving to your site and where they are going by looking at the organic traffic to it.
You can quickly check by going to your site's main reporting page and selecting "All Sessions" to only see organic traffic (search engine traffic that does not include sponsored search traffic):
By creating a custom report and selecting users and goal completions as your metrics and landing pages as your dimension, you can also dig down to examine the exact pages that are generating traffic and goals:
Note: If you don't pick the organic traffic segment again while viewing this report, you'll see all of your traffic broken down by page rather than simply unpaid traffic from search engines.
This can be effective for websites that are just getting started with SEO because many of the visitors to your site will come from "branded queries," or searches that include the name of your company.

For example, a branded search for WordStream might be "WordStream PPC" as opposed to a non-branded search term, which might be "pay-per-click software."

However, unless Google has punished your site, you will almost probably rank for your brand and receive branded traffic to your site's home page.

It is obvious that you want people to search for your brand and that you naturally want them to discover you when they do.

Driving more visitors to the site (people) should be the main focus of your continuing SEO efforts.
Unfortunately, as I mentioned in the guide's keyword section, Google has made it difficult to gather information about the actual keywords people are using to search.

However, by examining page-level traffic (traffic to pages other than your site's home page), you can begin to gain insight into your overall SEO progress.

You can gain a deeper understanding of the actual terms generating traffic by using rank data and the strategies described in this guide's keyword section (and whether your SEO growth is being driven by optimization efforts rather than off-line marketing).
Organic Leads & Sales
Obviously, actual leads, sales, revenue, and profit should be used as the major metrics for evaluating your search engine optimization performance.

The same question applies to any company action: How does this activity affect your bottom line?
Setting up objectives or e-commerce tracking in a programme like Google Analytics is the most straightforward solution here.

You can use the aforementioned report to examine organic traffic and goals (or other e-commerce metrics) by landing page, which allows you to specifically examine which visitors to your site arrive via organic search (as opposed to those who might have arrived via PPC or another channel during the tracking window of your analytics) and convert.
This appears very simple, and for the majority of organizations, it's a solid approach to gauge the effectiveness of your SEO efforts at first. However, there are a few cautions and considerations with this data:
Analytics on the web are never ideal. The volume and accuracy of the data accessible may probably wow you if you're switching from billboards or newspaper ads to internet marketing, but there are typically a number of various tracking difficulties that can cause the data you're seeing to be anywhere from slightly to wildly incorrect.

Always be skeptical of data that doesn't appear to fit together, and do your best to have some checks in place to ensure that your analytics data is synchronized.
Your system can leave tracking gaps. The gap between what you can track as goals and actual sales may exist if you have a back-end system that you can't exactly relate to analytics for some reason.
Metrics for attribution and lifetime value might be challenging. Although this is more of a business and web analytics issue than an SEO-specific one, it can be challenging to determine how to assign sales to various channels and take into account the lifetime value of your site's visitors.

Be careful to use the same challenging questions and approach to measuring SEO as you would with any other marketing initiative.
---
Related Reading: The Best Healthcare App Development Companies in The World
---
How to do SEO step by step?
A step-by-step SEO tutorial is required if you're just getting started with search engine optimization (SEO).

You've probably heard of a few fundamental concepts by now, such keyword research and on-page SEO. But how do you put all you've learned up to this point to use? We'll take you step-by-step through the process.

No matter how inexperienced you are with SEO, anyone can start with the below SEO advice and quickly raise their website's ranking.

Well, eventually. possibly a year or longer. You should be aware that SEO is a long game. You'll be able to leave this course having compiled a list of doable tasks to launch your SEO campaign.
1. Find keywords
Selecting a list of words and phrases pertinent to your organization is all that is required to conduct keyword research.

Focus on the words that will most likely lead individuals to take the action you want them to (visit your website and submit a form).

Although you can utilize a specialized keyword research tool, it's best to start by choosing your keywords based on intuition.

For instance, you might choose "roasted coffee," "Colombian coffee," and "local coffee roaster" if you sell roasted coffee. For you to keep track of, list these keywords in a spreadsheet or document.
Select a single word or phrase, and utilize it on only one page of your website. In other words, you shouldn't use various keywords on the same page.

One term, as well as any keywords it has semantic ties to, should be your focus. You could create a page for a "local coffee roaster," for example.

You can use terms like "local coffee," "coffee roaster near me," "coffee roaster [city name]," and "locally roasted coffee" to target this page. Here is an illustration of what that appears like: Picture Source Several keyword variations are visible, including "free CRM," "CRM solution," and "software CRM."
2. Put keywords in the page title.
It's time to start using your chosen keyword when you've made your decision. The title of your web page should be entered first.

One of the most crucial factors that Google and other search engines consider when determining what is on a web page is the page title. It's what shows up at the top of the search engine results page for your website (SERPs).

Take note of how the following company used the phrase "Atlanta Coffee Roaster" in its page title: Remember to make it brief.

To prevent search engines from trimming your title, as seen in the following search result, we advise using 65 characters or fewer: Remember that the title of your website can only have so many characters, including your brand name.
3. Put keywords in the page URL
Google and other search engines analyze the text of a web page's URL to determine its content.

In the slug, you should use your keyword or phrase specifically. Picture Source Do not, however, overdo it. Don't make a slug like this if you sell coffee, for example: mycoffeecompany.com/coffee-atlanta-near-me-fulton-county-greater-atlanta-area-coffee Keep it succinct, concise, and descriptive.

A good illustration is this: mycoffeecompany.com/atlanta-coffee-roaster Here's how to modify the backend slugs for your web pages if you're using WordPress.
4. Put keywords in your meta description
The meta description of your page can further explain to users and search engines what your page is about.

Metadata still matters even though it is not nearly as significant as it once was. Make use of it by inserting your keyword or phrase. The keyword metadata should concentrate on your keyword or phrase, and the description should be understandable to a human. Make it brief; more often than not, less is more.
5. Put keywords in your H1 text
The H1 text on your website is typically the article title or some other large, bold text.

Because of this, Google and other search engines give the words in the H1 text a higher priority. Make sure your phrase or keyword appears there. Here is an illustration from a nearby coffee roaster.
6. Use keywords in the page's content
Your on-page SEO approach must include the use of your target keywords in the text.

Why?

As a result, search engines will be informed that the website is genuinely about the keyword and should appear in search results.

According to "experts," your keyword should be used somewhere between 4-6 times and 10-12 times.

Our recommendation is to simply write naturally while carefully avoiding black-hat strategies like keyword stuffing.

To put it another way, avoid using language like "We are Atlanta Coffee Roasters, the top coffee roasting firm in Atlanta, GA, where you can discover Atlanta locally roasted coffee roasted by hand in our coffee shop serving the greater Atlanta area."
Simply illegible, that. The local coffee roaster company's website reads, "At Peach Coffee Roasters, we're passionate about single-origin coffees and meticulously constructed mixes.

The best coffees are chosen from around the world and expertly roasted by our three certified Coffee Q-Graders. Every stage of the process, from procuring green coffee to small-batch roasting and only employing the best brewing techniques each time, is subject to this preoccupation with quality.
---
Related Reading: The Best Wearable App Development Companies in The World
---
7. Build links to your website
Building inbound connections to your website from authoritative sites in your sector or niche requires a lot of work once you've convinced search engines that your keywords are relevant.

One of the most crucial SEO actions you need to do is undoubtedly this one. Google and other search engines consider the quantity and caliber of links leading to your website when determining how you rank for various queries.

Linking to you indicates that your website provides reliable, authoritative information on a certain subject.

Consider the backlink HubSpot acquired from the following Digital Trends article, which has the anchor text "Accruing inbound links": Additionally, you should externally link to websites in your business to further highlight your significance for that.
8. Monitor your rank
Not least, it's time to evaluate the outcomes of your efforts. Give the search engines a little time (a few weeks to a few months) to do their thing, and then keep checking your rank to see what changed and to monitor your progress.

If you're just getting started with SEO, you may manually check this rank by conducting a Google search for your intended term.

Google Search Console is another tool we advise using to view your rankings for free. You can upgrade to an official SEO monitoring tool to track the most pertinent keywords and regularly develop tactics to increase your performance because GSC has some limitations.
Which are the top SEO companies?
1. Straight North
Straight North is an SEO agency in the USA that was founded in 1997. It has since grown to become one of the USA's leading full-service internet marketing agencies.
They have over 100 full-time employees and serve B2B and B2C business clients worldwide. They also have one of the best Meet the Team pages you'll see.

2. Kilowott – A 360-degree Performance Marketing Company
Kilowott is a boutique business experience (BX) transformation firm accelerating growth for businesses of all sizes across industries by reimagining the way businesses operate and crafting digital experiences with the user at the core.
Kilowott's design heritage coupled with their digital transformation expertise and deep focus on user experience helps them stand apart from the crowd. All their business experience transformation engagements focus on enhanced digital customer experience while driving up business profitability.

Kilowott's search engine optimization specialists have extensive experience in seo, smm, sem, content writing, running ads and delivering results, throughout the world. They assist you in developing a voice that stand out in a sea of digital marketing services.
3. Ignite Visibility
Ignite Visibility is a famous digital marketing agency in the USA popular for its SEO services. It has more than 150 clients and has made it into the list of Fortune 5,000 companies 4 times.
They have worked with big names like Tony Robbins, The Knot World Wide, National Funding, and even 5 Hour Energy.
Some top services you can get for your business from Ignite Visibility are SEO, paid media management, social media marketing and management, creative strategy, and development services.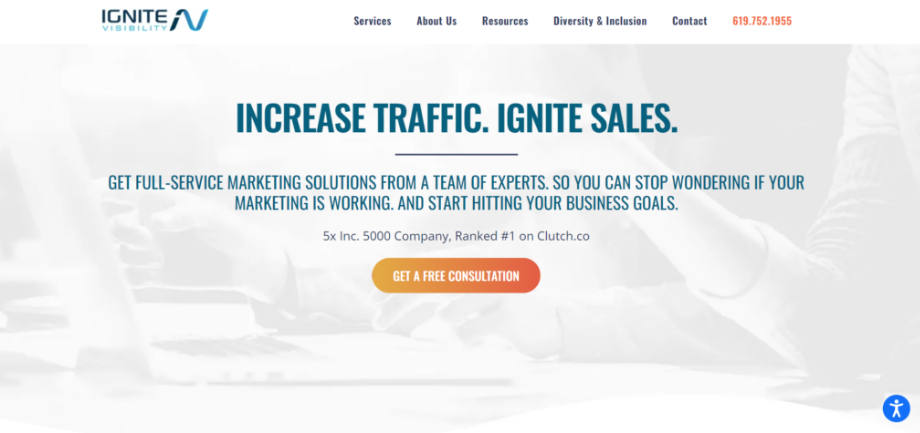 4. SocialSEO
UpCity voted these guys as the #1 Digital Marketing Firm in the USA, and for a good reason. SocialSEO is a rapidly growing online marketing agency in the country and has established itself as one of the major players in the game.
They offer full-scale services for SEO, SEM, SMM, video production, and email marketing and are famous for their unique and engaging B2B lead generation strategies.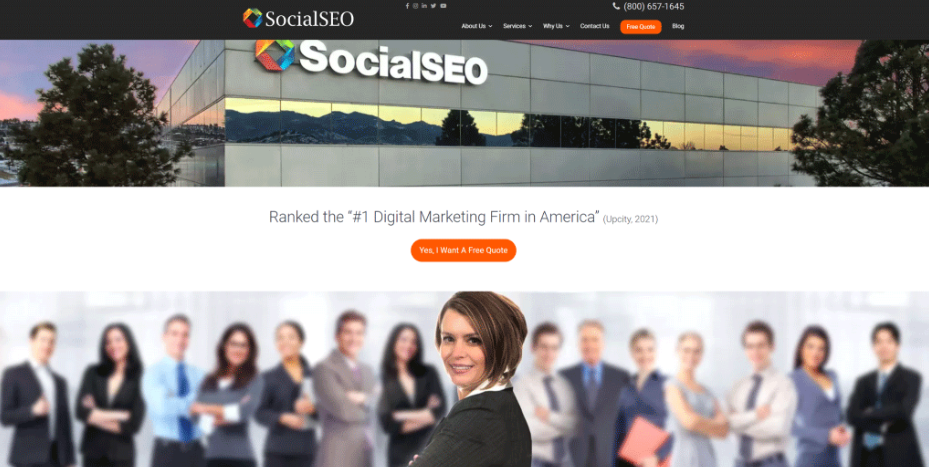 5. Blue Fountain Media
Based in New York, Blue Fountain Media combines creativity with a focus on modern technology to develop strategies and practices designed to help businesses grow. Acquia named these guys their Growth Partner of the Year in 2018.
Blue Fountain Media is a Pactera EDGE Company that has worked with big names like Peterbilt, CDK Global, Workfront, Bowlero, and many others.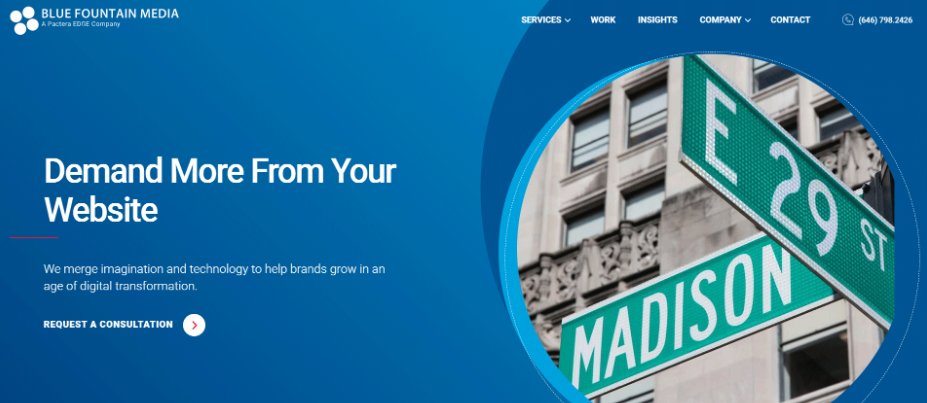 6. Mayple
Mayple is a leading company that offers fantastic SEO solutions for SMEs and some major brands. They can help you get marketing results and manage your content so that you receive better organic traffic.
Mayple creates a custom business strategy for its clients based on their requirements and their current positioning. Bottom line- It's a result-driven and reliable SEO company.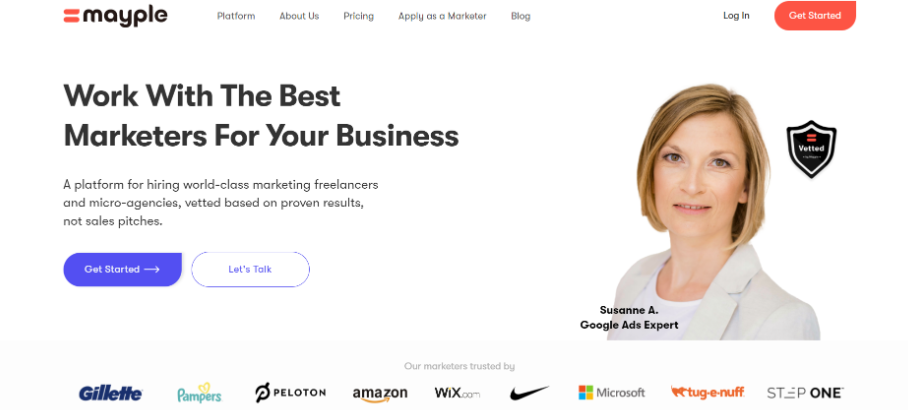 7. eDesign Interactive
eDesign Interactive is a digital experience agency headquartered in Morristown, NJ. Founded in 2004 with a team of 30+ talented individuals fueled by passion, artistic flair, and unconventional ideas, they create stunning websites, digital strategies, and interactive campaigns across multiple industries.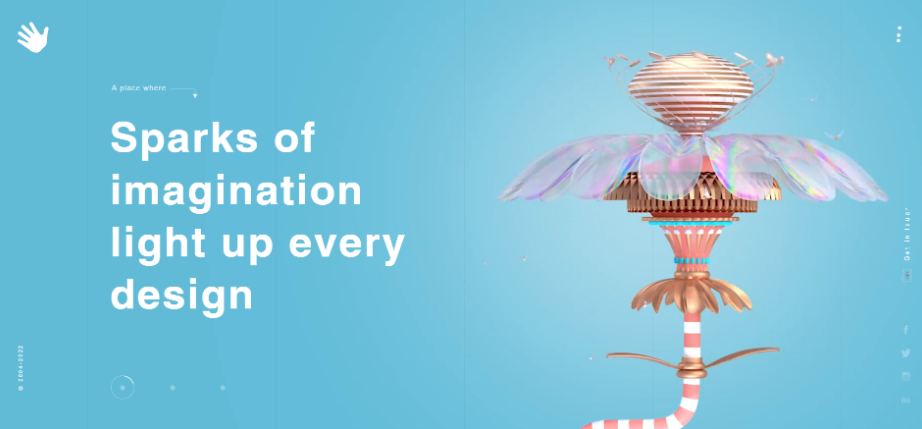 8. Rankings
They usually work closely with personal injury lawyers and law firms and help them gain better visibility from the targeted audience. They are a one-stop-shop for any law firm that needs SEO services.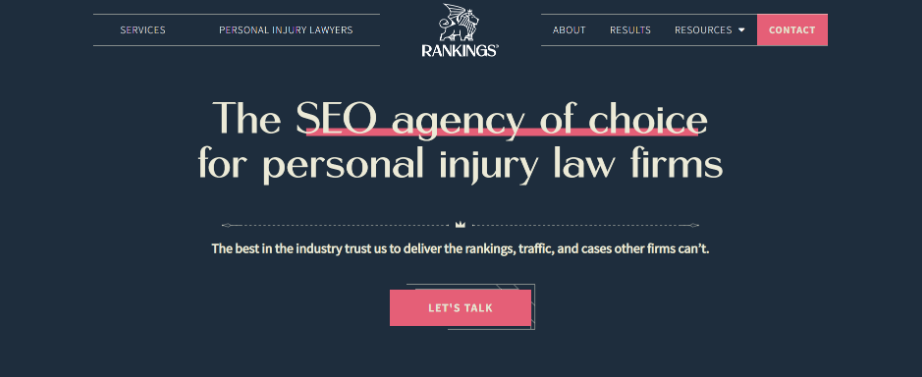 9. iSynergy
iSynergy is a leading SEO agency that was founded in 2011. Based in Canfield, Ohio, iSynergy offers top of the line marketing services, including programmatic advertising, inbound marketing, and detailed SEO campaigns.
They are a certified Google Partner and focus primarily on data-driven design and marketing technologies.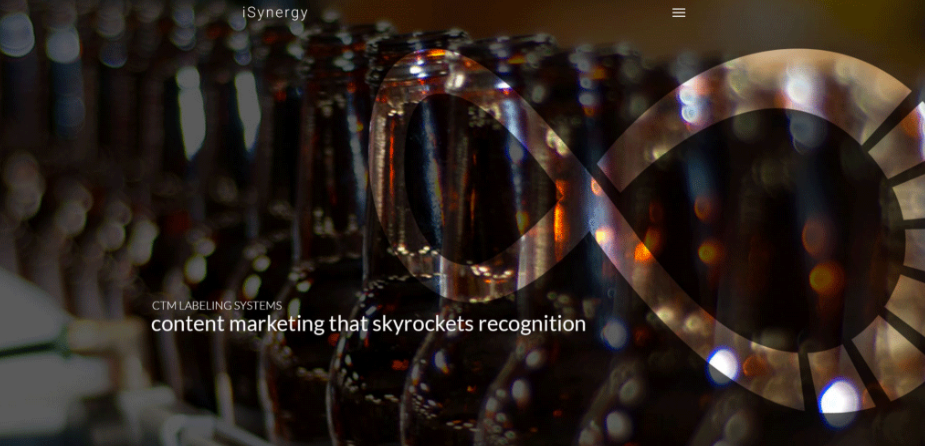 10. Delante
Experienced in creating and managing international SEO strategies for both B2B and B2C businesses, they work with numerous companies from industries like e-commerce, automotive, SaaS, IT and software firms, wellness and much more.
They successfully run SEO campaigns for 20+ different markets and languages.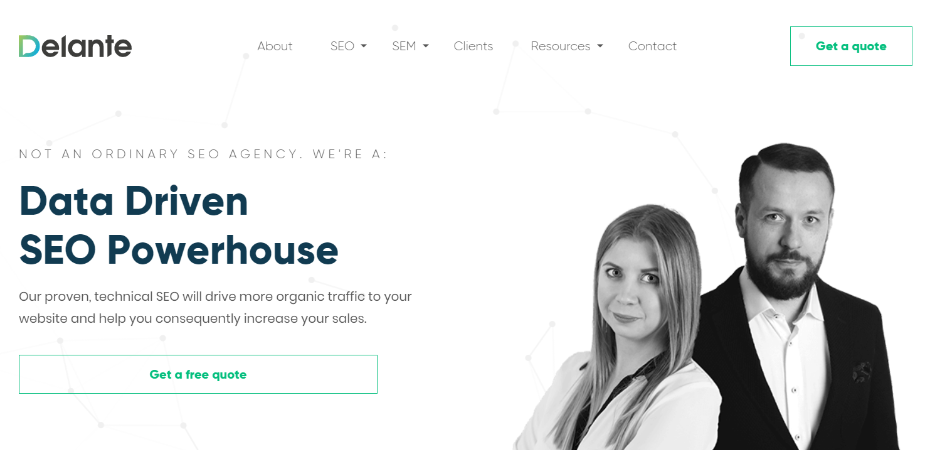 11. CEEK
CEEK is a brilliant digital marketing and SEO agency that works with a pretty minimalistic approach.
Their work model is to make a direct impact and quickly implement whatever delivers results. They use the best SEO tools and platforms, which keeps the clients happy and helps the company grow.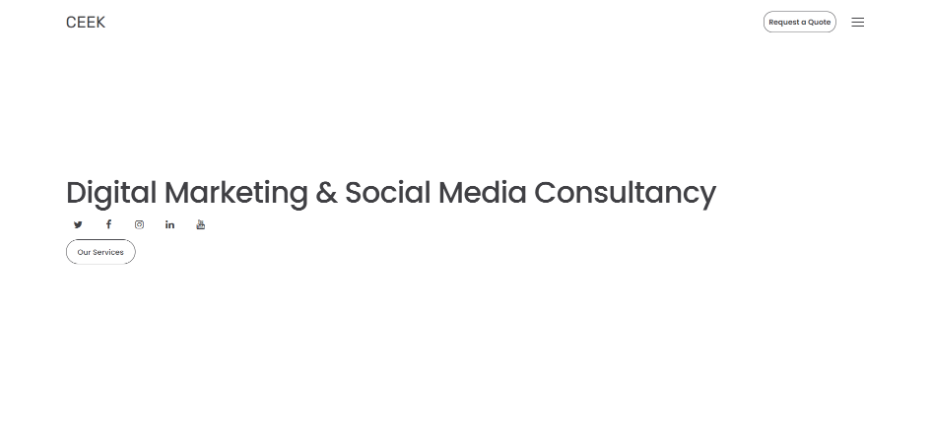 12. GenieCrawl
GenieCrawl is a results-oriented digital marketing and SEO agency founded in the UK in 2018.
Currently based in Twickenham, this team of 10 works with several leading brands and companies all over the globe.
They have worked with major names like Papa John's, Craig McConnon, and Subway. Their drive to offer innovative web marketing solutions to clients is what keeps them afloat.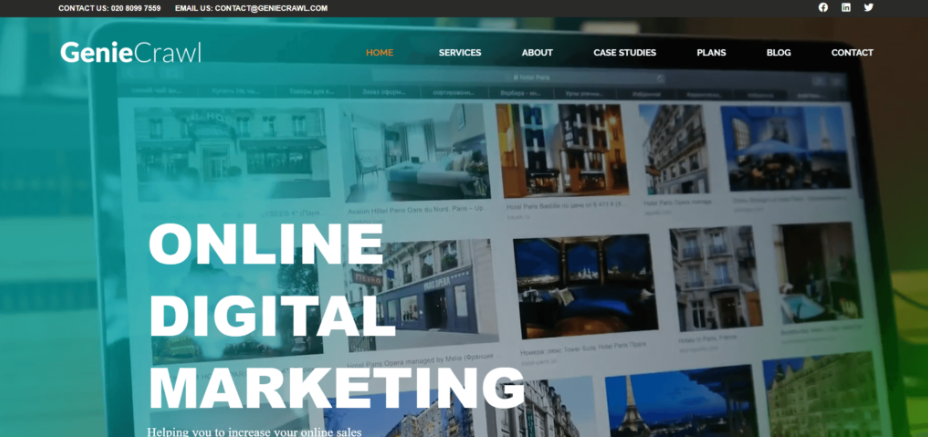 13. Pearl Lemon
Pearl Lemon is a multi-award-winning SEO agency in the UK that offers lead generation, content, and sales-based services to improve both traffic and sales.
They work closely with both B2B and B2C businesses and are known for their exceptional customer service. They are known for creating several high-converting landing pages.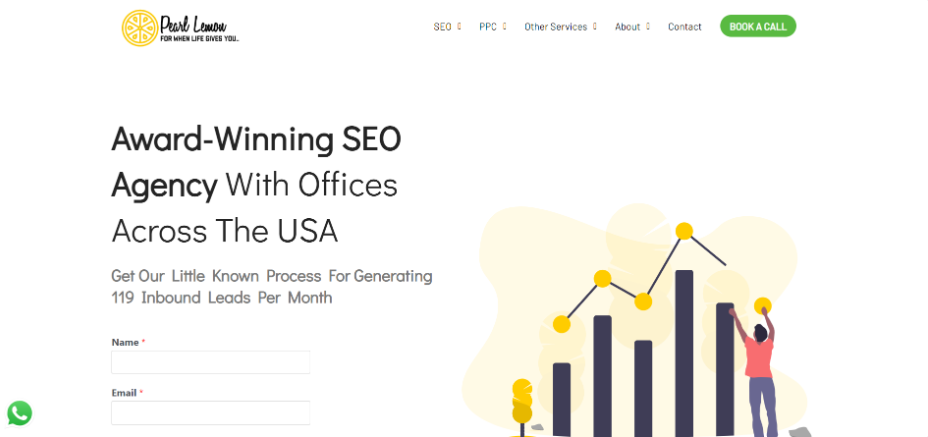 14. Focus On Digital
Founded in 2020, Focus On Digital is an SEO agency in the UK that has quickly risen amongst the ranks to become one of the top SEO agencies in the country.
Their focus primarily lies on WordPress development, actionable ecommerce SEO strategies, and the use of Google AdWords. So if you want services like PPC management or top-level content writing, Focus on Digital will surely not disappoint you.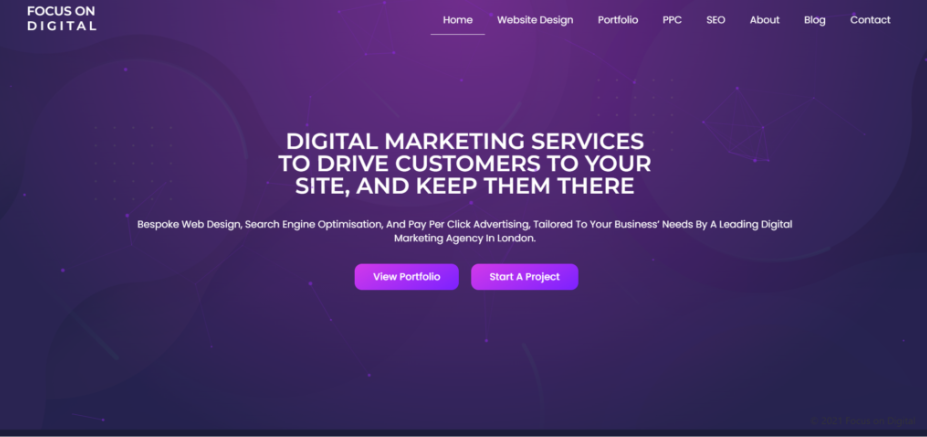 15. Front Page Advantage
Front Page Advantage is an all-inclusive SEO and PPC management agency that offers a full range of digital marketing services.
Based in Basingstoke, Hampshire, they work with more than 60 clients throughout the United Kingdom and abroad, including Asia and the USA.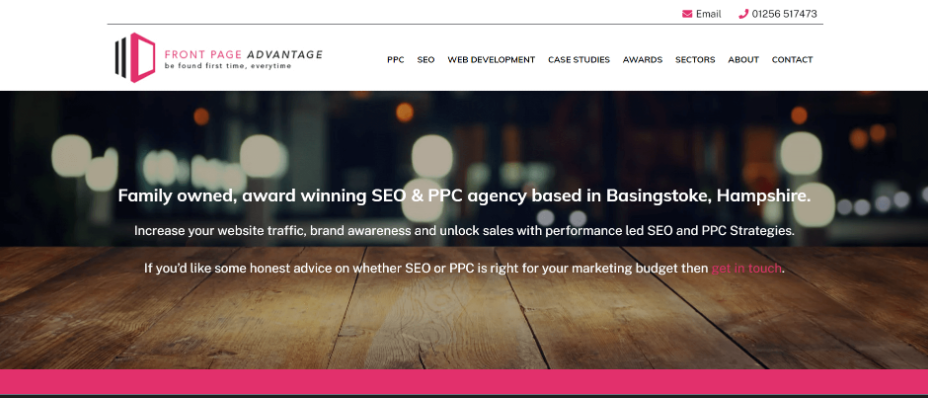 16. Accelerate Agency
Accelerate Agency is one of the top SEO agencies in the UK. They specialize in content marketing and SEO, which go hand-in-hand. With the help of their content writing services, you can get the best and most relevant traffic to your website and gain better access to potential clients.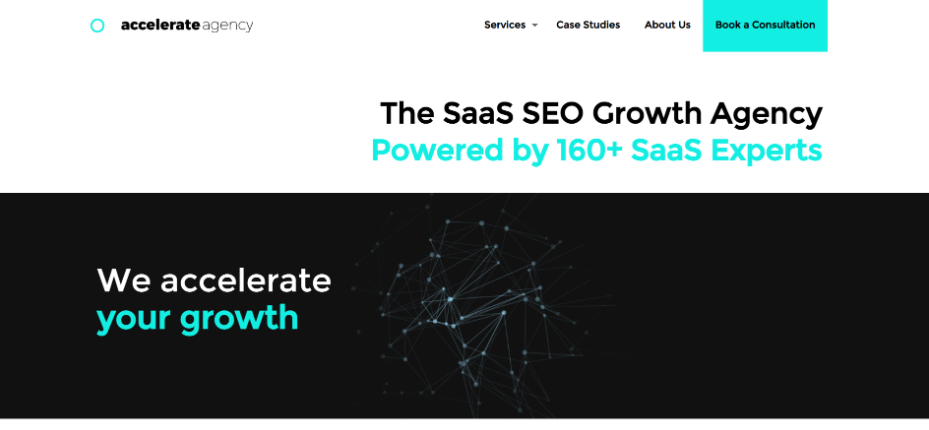 17. SmartSites
SmartSites offers some of the best digital marketing services, Facebook advertising services, as well as dedicated SEO tailored to grow traffic.
They offer a range of SEO services to B2B and B2C companies of all sizes. They can also help grow your business and help you connect with your potential clients.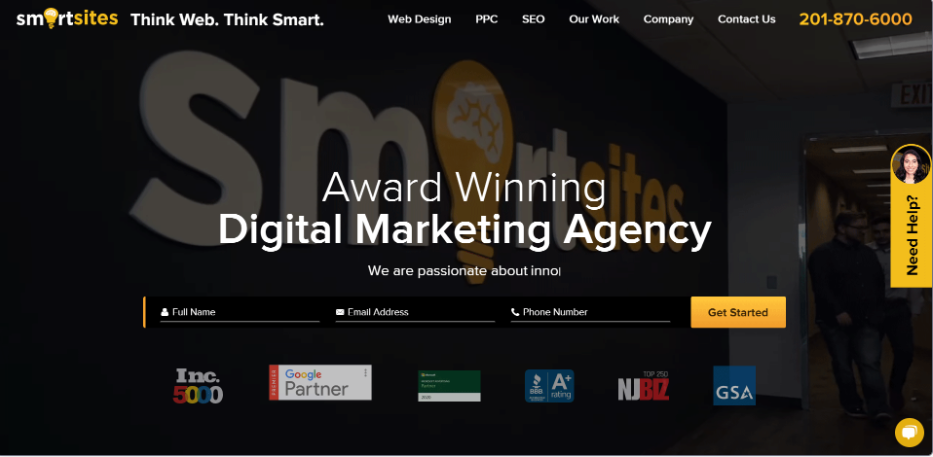 18. One Egg Digital
One Egg Digital takes a very collaborative approach to work, resulting in projects brimming with creativity and imagination into their work.
They offer clever marketing services to boost brand visibility and increase traffic. Their primary services include PPC, email marketing, web designing, and of course, SEO. One Egg has a versatile approach and caters to different types of businesses.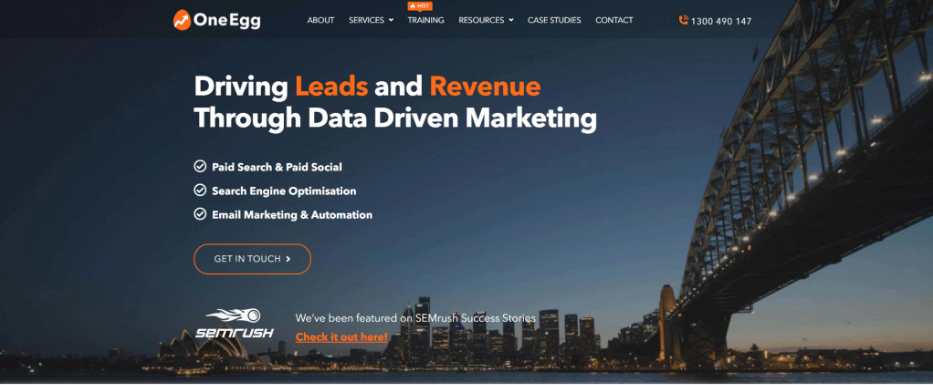 19. Clearwater Agency
Clearwater is a top-tiered agency in Australia that's making waves in the digital marketing scene.
The agency has bagged several accolades over the years and even won the SEMRUSH search award in Australia in 2021.
The SEO agency has worked for clients from several industries, including real estate, the financial sector, FMCG, etc.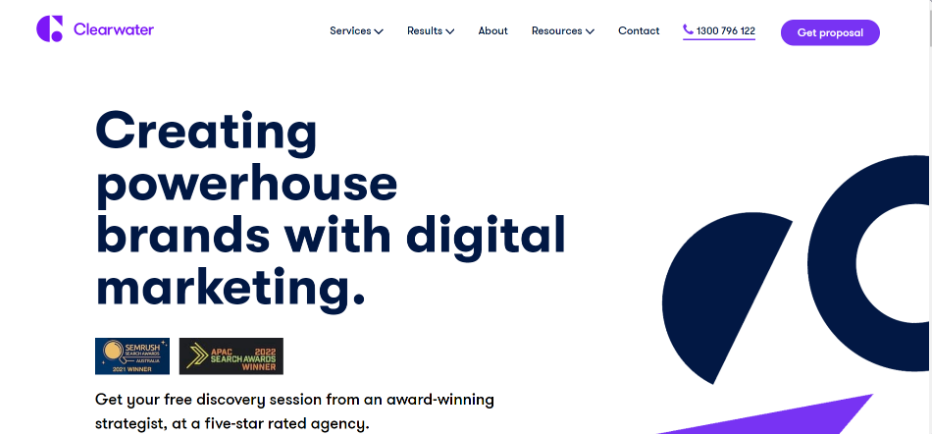 20. Engine Scout
Engine Scout is a digital marketing agency that offers a full range of SEO services designed to promote and grow your company.
Engine Scout specializes in ecommerce SEO and web designing.
If you use WooCommerce or any other ecommerce plugin, their SEO services will be right up your alley.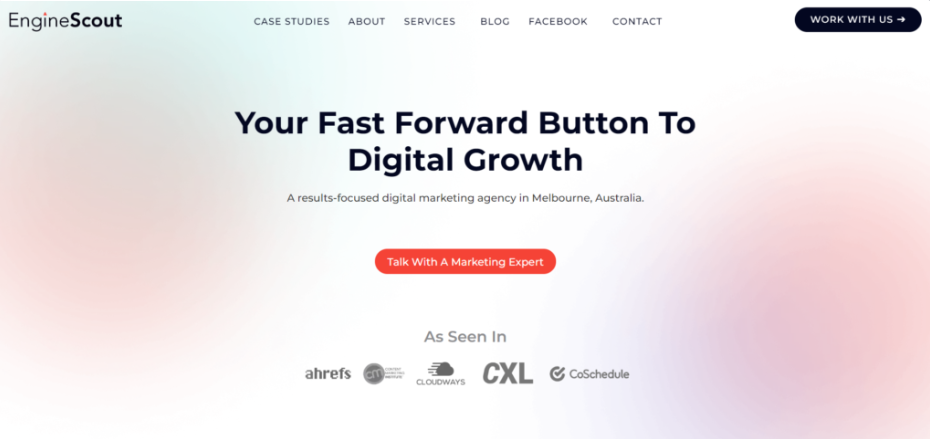 21. SEO Berlino
SEO Berlino takes a very speedy approach to handling SEO.
They use a variety of time-tested techniques to promote their client's websites. This yields fantastic results for the company.
SEO Berlino has quickly become one of the top SEO agencies in Europe.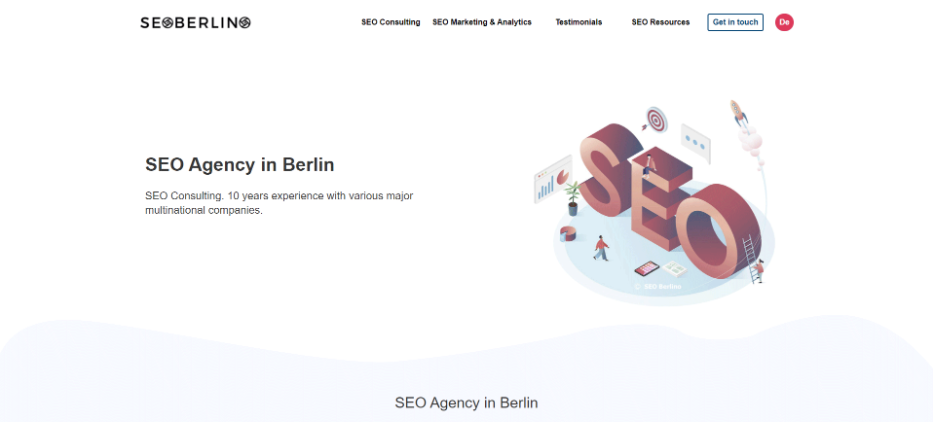 22. Panem Agency
Panem is another great digital marketing agency that can help your business grow organically and via paid campaigns.
The agency derives data-driven insights and results for its clients, which is a key to their success.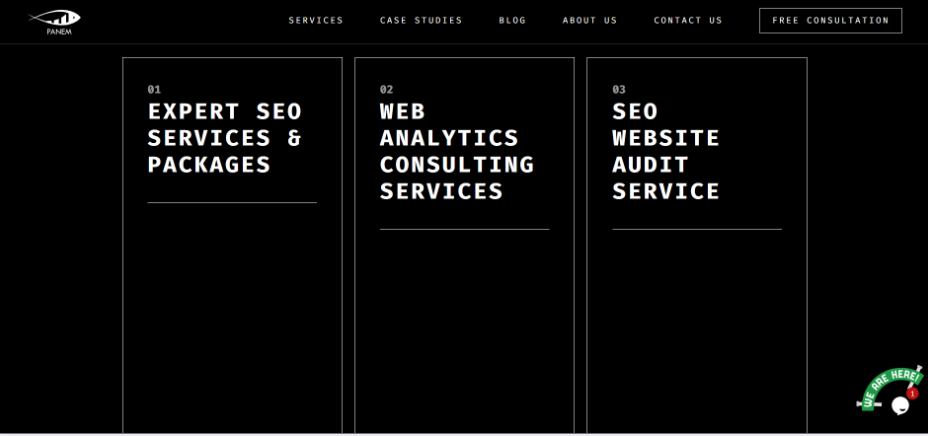 23. Growwwise
Growwwise is based out of Constanta, Romania, and has worked with many clients over the years.
Growwwise focuses primarily on on-page optimization and web design in order to boost traffic. But they also implement off-page SEO when required.
They have an excellent rating and have become incredibly popular for the quality of their services.
https://growwwise.com/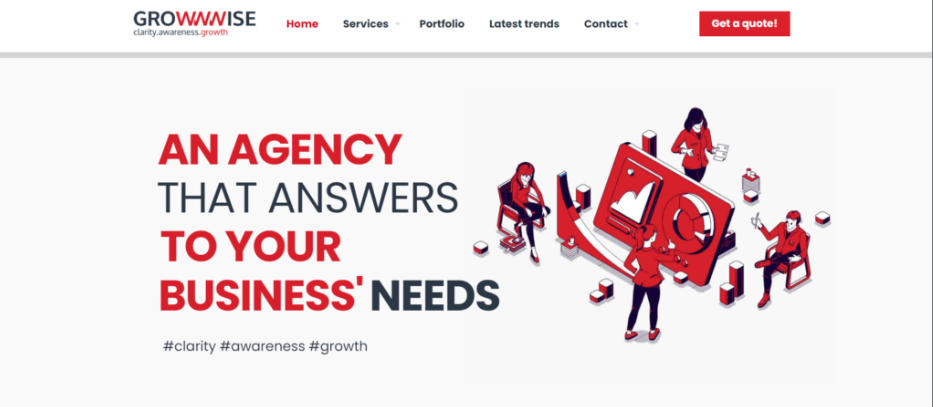 24. SmartWeb Group
SmartWeb Group is a digital agency based out of Cannes, in France.
They offer an array of SEO and digital marketing services designed to cater to the needs of businesses, both big and small.
Their work is renowned throughout Europe.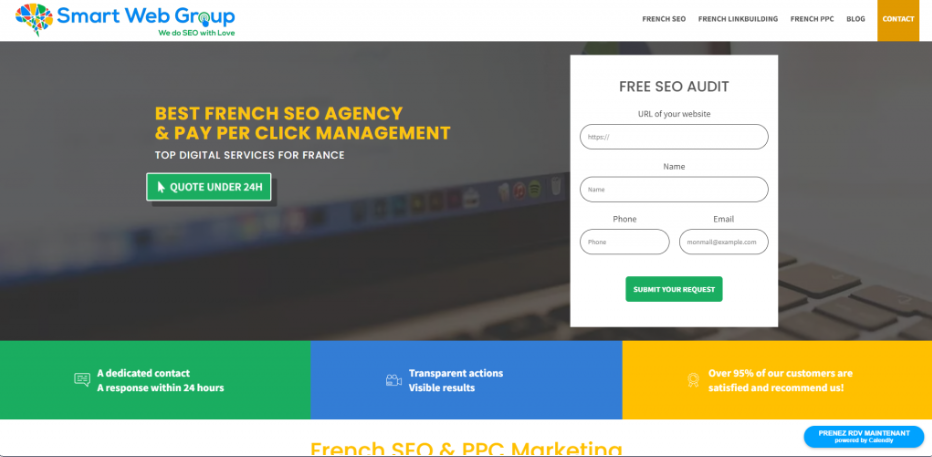 Need help with increasing your business' visibility to sell, tell stories or be relevant ? Let's talk!